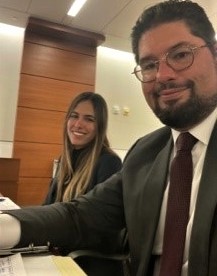 Perry & Neblett's Trial Team Secures Another Verdict Against Tower Hill
Tower Hill underpaid Mr. Raftopoulos's homeowner insurance claim from a plumbing and roof loss with its bad-faith initial payment of just $274 dollars. Then Tower Hill did everything it could think of to try to deny the claim and then alleged fraud and misrepresentation against its own insured when he only wanted to get paid what he spent on repairs.  Thankfully, the Broward County jury saw through this nonsense and awarded our client $35,000.00 – much more than he spent and more than we asked the jury to award.
Perry & Neblett's trial team of David Avellar Neblett, Esq., B.C.S. James M. Mahaffey III,  Melisa Palau, and Nicolas Yoda tried the case in Broward County with Judge Speiser against the experienced trial lawyers, Jeffery Wank and Derick Goldsmith from Kelly Kronenberg, P.A. – a large first-party property defense firm in Florida.
After receiving a pittance of payment from his insurance company, our client requested that Tower Hill reinspect his home as the damages were much higher than a few hundred dollars.   The homeowner had a contractor doing repairs and some of the inspections took place while the repairs were ongoing and involved the demolition of walls and structural elements on both the inside and outside of the house to get to a pipe leak in the slab.  The insurance company and its adjusters inspected the home a number of times and then sent our client another payment of approximately $1,600.
Then Tower Hill told our client that it would pay him an additional $1,700, but only if he executed a full Release and dropped any claims against it. Mr. Raftopoulos refused and hired a Public Adjusting company, Stellar Public Adjusting Services. Both our client and Stellar Public Adjusters tried to resolve the claim with Tower Hill, but they refused and then started asserting various coverage defenses after the homeowner refused to sign a Release and after he hired a Public Adjuster.
The insurance company then claimed that its adjusters and inspectors were "denied" access to the property;  that the homeowner refused leak detection services and further refused water mitigation services.  Mr. Raftopoulos had already hired a company to find the leak and mitigate it, despite the insurer's false statements.
The homeowner ended up spending approximately $28,000 in repairs and then sold his home.  Tower Hill argued that he could not recover anything as he had sold his home, that the loss was not covered (although it had previously been covered), and most egregiously that Mr. Raftopoulos had misrepresented the claim and the cost of damages by having a Public Adjuster prepare an estimate and that he and his public adjuster had committed insurance fraud by misrepresenting the dollar amount of damages in the PA estimate.
Thankfully, the Broward County jury saw through this nonsense and awarded the homeowner $35,000.00 – much more than he spent and more than we asked the jury to award.
Once again, a Florida insurance company chose to engage in scorched earth costly litigation instead of simply paying it's insured.  The costs of Tower Hill's legal fees will be passed on to its other insureds as it continues to deny valid claims and fail to pay its own clients.
Is your insurance company taking a long time to process the claim?
Was your claim underpaid or denied?
Are you a lawyer or a public adjuster who has a client who needs an experienced first party property trial lawyer to assist them?
We can assist with all typed of property loss cases and can take cases to trial and win them!
Call us now for a free consultation and for help with your insurance claim at  305-456-0445
#PerryNeblett #publicadjuster #deniedclaim #underpaidclaim #roofloss #plumbingloss #waterclaim #paidsettlement #winjurytrial #InsuranceLossLawyer #paidclaim #insuranceclaimpaid #insuranceclaimhelp #insuranceclaimadjuster #badfaith #towerhill #waterloss #fraudandmisrepresentation #trialvictory #RealTrialLawyers #DavidNeblett #PAmisrepresentation #InsuranceClaimExperts #boatclaim #boatfire #marineclaim #boatloss #MiamiMaritimeLaw