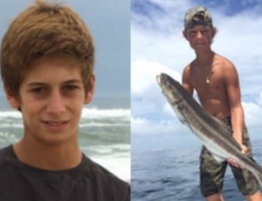 Update on the two south Florida teens lost at sea. We hope that the recovered cell phone can provide some answers. Everyone should be careful on the water and have proper safety gear – EPIRBs Perry Neblett
---
Via Local10.com
PEMBROKE PARK, Fla. – A Norwegian research crew found the boat that carried two Jupiter teens who disappeared at sea last summer, according to the parents of one of the boys. The boat was found off the coast of Bermuda.
The personal effects of Austin Stephanos and Perry Cohen, both 14, were found on the boat, the parents said, including an iPhone that belonged to Stephanos, which has been given to the Florida Fish and Wildlife Conservation Commission to investigate.
Stephanos and Cohen disappeared July 24 off the coast of Jupiter. Their disappearance sparked a search by the Coast Guard that spanned from Daytona Beach to Myrtle Beach, South Carolina. Private searches also took place from the Bahamas to Virginia Beach.
Investigators had recovered the boat last year during their initial search, but by the time crews went out to recover the vessel, it was lost again at sea.
The boat was found capsized about 100 miles off the coast of Bermuda on March 18 by the crew of the Edda Frjord, which was on its way to Norway.
The  captain of that boat, Havard Melvaer, contacted the U.S. Coast Guard upon finding the vessel. Markings on the boat helped link it to the teens.
Cohen's parents said in an emailed statement that they hope the iPhone and other recovered items "will reveal important information related to the incident."