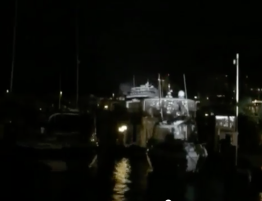 A stolen yacht crashed into at least six other boats Sunday night at Miami Beach Marina, Miami Beach police said.
The crash happened about 11:30 p.m. near Monty's in Miami Beach. Police said the stolen 80-foot yacht was driven into a concrete pier and several boats at the dock. The thief then abandoned the boat after crash, according to police.
"These guys that own these boats, they know what they're doing," Steve Streitz, who was doing construction work Monday morning at the marina, said. "So, if they're hitting stuff, it's pretty guaranteed (that) they don't know what they're doing."
Chris Miller and his family live on The Lady Mary, which is docked at the Miami Beach marina. His son recorded the out-of-control yacht on his cellphone.